The decumani, of Roman origin, there are three roads that run in parallel and from east to west, the historic center of Naples. In fact, there appears to be the main roads and secondary roads. Between 3 decumani (Lower, Upper, Major), the largest today is called with the name of Via the Courts, the main road that leads to the agora is now Piazza San Gaetano (also home of the entrance to a visit to Naples underground) and was divided in two by the north side of the Basilica of San Paolo Maggiore, on the opposite side (south) of the basilica of San Lorenzo Maggiore.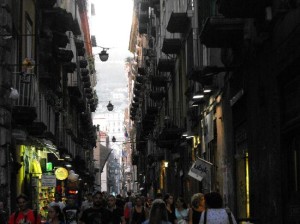 This long and linear, has remained unchanged over the centuries. In fact we can see from admiring her the Vomero hill, that the way Spaccanapoli runs across the center straight and uninterrupted linear from one point to another without interruption.
The Fresh Glamour Accommodation, is located near the lower decuman vulgarly called Spaccanapoli.
If sometimes visit the historical center from our hotel, it will be very easy and pleasant stroll to the nearby streets and among its many narrow streets.
A room in the historic center of Naples, a holiday or a weekend choose THE FRESH THE BEST AND NEW HISTORICAL'S CENTER HOTEL means starting with the right foot.