Hotels near the hydrofoils to Naples lists of times and the best hotel accommodations and close and not far from the port Beverello in Naples where every day starting point of many ferries to the nearby islands of the Gulf of Naples Ischia and Capri.
Warning: From the port Beverello leaving only hovercraft, while ferries leave from the port of Descent Massa, always close to the harbor.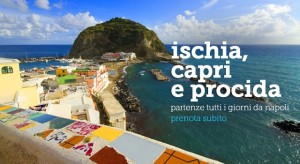 From Garibaldi Central Station is just 10 minutes by taxi cost is about 8/10 euro.
The Fresh is located just 5 minutes from the port Beverello, modern and centrally located with 6 bedrooms offers a breakfast buffet and free wi fi. Phone  081/0322226
Napoli >> Capri
Orario
Tipo
Compagnia
Porto
Prezzo / Note
05:35
Nave veloce/Fast ferry
Caremar
Calata Porta di Massa
€ 17.80
07:00
Aliscafo-Jet/Hydrofoil
Gescab – Snav
Molo Beverello
€ 19.10
07:25
Traghetto/Ferry
Caremar
Calata Porta di Massa
€ 12.70
si effettua dal 1° aprile/operating from 1st April
08:05
Aliscafo-Jet/Hydrofoil
Gescab – Snav
Molo Beverello
€ 19.10
08:35
Aliscafo-Jet/Hydrofoil
Gescab – N.L.G.
Molo Beverello
€ 20.50
09:00
Traghetto/Ferry
Caremar
Calata Porta di Massa
€ 12.70
si effettua fino al 31 marzo/operating until 31st March
09:30
Aliscafo-Jet/Hydrofoil
Gescab – N.L.G.
Molo Beverello
€ 19.10
11:35
Aliscafo-Jet/Hydrofoil
Gescab – Snav
Molo Beverello
€ 19.10
12:00
Nave veloce/Fast ferry
Caremar
Calata Porta di Massa
€ 17.80
12:40
Aliscafo-Jet/Hydrofoil
Gescab – N.L.G.
Molo Beverello
€ 19.10
14:20
Traghetto/Ferry
Caremar
Calata Porta di Massa
€ 12.70
si effettua fino al 31 marzo/operating until 31st March
14:40
Aliscafo-Jet/Hydrofoil
Gescab – N.L.G.
Molo Beverello
€ 19.10
16:30
Aliscafo-Jet/Hydrofoil
Gescab – N.L.G.
Molo Beverello
€ 19.10
17:25
Nave veloce/Fast ferry
Caremar
Calata Porta di Massa
€ 17.80
18:35
Traghetto/Ferry
Caremar
Molo Beverello
€ 12.70
si effettua dal1° aprile / opertaing from 1st April
19:15
Aliscafo-Jet/Hydrofoil
Gescab – Snav
Molo Beverello
€ 19.10
20:10
Traghetto/Ferry
Caremar
Calata Porta di Massa
€ 12.70
si effettua fino al 31 marzo/operating until 31st March
Capri >> Napoli
Orario
Tipo
Compagnia
Porto
Prezzo / Note
05:40
Traghetto/Ferry
Caremar
Calata Porta di Massa
€ 11.20
si effettua dal 1° aprile/operating from 1st April
06:50
Aliscafo-Jet/Hydrofoil
Gescab – Snav
Molo Beverello
€ 17.60
07:05
Traghetto/Ferry
Caremar
Calata Porta di Massa
€ 11.20
si effettua fino al 31 marzo/operating until 31st March
08:05
Aliscafo-Jet/Hydrofoil
Gescab – Snav
Molo Beverello
€ 17.60
09:10
Aliscafo-Jet/Hydrofoil
Gescab – Snav
Molo Beverello
€ 17.60
09:20
Traghetto/Ferry
Caremar
Calata Porta di Massa
€ 12.70
si effettua dal 1° aprile/operating from 1st April
10:20
Nave veloce/Fast ferry
Caremar
Calata Porta di Massa
€ 16.30
10:35
Aliscafo-Jet/Hydrofoil
Gescab – N.L.G.
Molo Beverello
€ 17.60
11:00
Traghetto/Ferry
Caremar
Calata Porta di Massa
€ 11.20
si effettua fino al 31 marzo/operating until 31st March
12:40
Aliscafo-Jet/Hydrofoil
Gescab – N.L.G.
Molo Beverello
€ 17.60
13:40
Aliscafo-Jet/Hydrofoil
Gescab – N.L.G.
Molo Beverello
€ 17.60
15:25
Aliscafo-Jet/Hydrofoil
Gescab – N.L.G.
Molo Beverello
€ 19.00
15:35
Nave veloce/Fast ferry
Caremar
Calata Porta di Massa
€ 16.30
16:15
Traghetto/Ferry
Caremar
Calata Porta di Massa
€ 11.20
si effettua fino al 31 marzo/operating until 31st March
16:30
Aliscafo-Jet/Hydrofoil
Gescab – N.L.G.
Molo Beverello
€ 17.60
18:10
Aliscafo-Jet/Hydrofoil
Gescab – Snav
Molo Beverello
€ 17.60
20:15
Nave veloce/Fast ferry
Caremar
Calata Porta di Massa
€ 16.30